Looking for a way to support us?
Donate and become an Afya Advocate! Every donation will allow us to reach more women in need.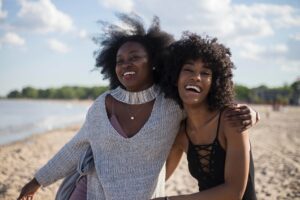 Welcome to Afya Collective! We are a black female-led non-profit organization. Our goal is to provide well-rounded guidance for black women and girls to navigate through the barriers to holistic wellbeing. Afya refers to being in a state of health in Swahili. We focus on three key components of wellbeing; Afya Soul, Afya Body, and Afya Spirit. Through our programs, we promote and advocate for the mental, social, spiritual and physical health of Black women. Afya Collective is a safe space to connect, learn and heal from the inside out.
Firmly rooted, ever growing
At Afya Collective, we are dedicated to services that will give black women opportunities to succeed in their communities.
The Rates of Working Poverty
In the greater Toronto area, one of the highest rates of working poverty was among Black women at 10.5%, more than twice the rates for white male workers and white female workers (at 4.8% and 4.7%, respectively). 2
Black women earn "59 cents" for every dollar of non-racialized men. Unemployment among Black women is roughly twice the rate of non-racialized women (12.2% vs 6.4%). 4
Data relevant to Black Women
In one study's review on breast and cervical cancer in Black Canadians, less than 1% of research papers examined health data relevant to Black women. 3